Did Freddie Mercury really love his fans
Freddie Mercury: On the trail of a free spirit
Status: 11.12.2020 11:00 a.m.
Freddie Mercury, legendary Queen's lead singer, was one of the most diverse stars in rock music. As one of the first rock musicians, he reached out to the classical music scene.
by Eva Schramm
When Freddie Mercury met the Spanish soprano Montserrat Caballé in 1987 and recorded the "Barcelona" album with her, it was the first major crossover project in music history. It is thanks to the extraordinary courage of the two artists that this rapprochement between so-called light and serious music came about, which was to have consequences.
Apart from Leonard Bernstein, I don't know anyone who was able to overcome the rifts between the different musical styles in such a way, who was able to bridge so many borders musically. Amber and Mercury are still a role model today. John Axelrod, conductor
Freddie Mercury opens the world of pop music
At this point, Freddie Mercury's love of theater, especially ballet and opera, had a long history. His passion for ballet could be felt in his graceful, powerful movements on the stage; His concert ballet outfits of the 1970s also showed his closeness to this genre.
We actually wanted to write a ballet together, but we couldn't do it any more. Mike Moran, co-composer of the Barcelona album
This preference culminated in performing together with members of the Royal Ballet in London in 1979 and working with these dancers for the Queen video "I Want To Break Free". Here a scene from a Debussy choreography by the legendary dancer Vaslav Nijinsky from 1912 has been reinterpreted.
Mercury's affinity for classical music runs through many Queen songs
Mercury's affinity for opera and his interest in classical music are clearly visible. In his song "It's A Hard Life" he quotes the Italian composer Ruggero Leoncavallo, in "The Millionaire Waltz" Johann Strauss sounds through, in the song "The Fairy Fellers's Master-Stroke" he plays a rather wild harpsichord part à la Handel - and "Bicycle Race" suggests that he also heard Bach cantatas.
It is really taken literally from J.S.Bach, cantata number 100 - just in a different key! At first I thought, how do you know that? You know that from somewhere! Prof. Dr. Hartmut Fladt, musicologist
The song "Bohemian Rhapsody" meant the final breakthrough for Queen: Contrary to all market mechanisms, it topped the charts with a length of more than five minutes, which is excessive for rock music. Several influences of classical music can be found in the piece: a "melodia lunga" à la Donizetti, editing techniques à la Stravinsky and a polyphonic choir based on large opera ensembles in the middle.
It's actually a piece that has all kinds of incidental music that has existed for over four centuries in the back of the mind somewhere. Prof. Dr. Hartmut Fladt, musicologist
A dazzling couple: Mercury and Montserrat Caballé
Freddie Mercury's enthusiasm for Montserrat Caballé began in 1981 with a performance of the Verdi opera "Un Ballo in Maschera" at the Royal Opera House Covent Garden. Mercury had actually come to hear Pavarotti - but Montserrat's singing left him speechless.
He couldn't believe how you could sing like that - and that was the first time he said: This woman has the most beautiful voice in the world! Peter Freestone, personal assistant and friend
It would be six years before he met her. When she sang his songs with him, a dream came true for him.
It's amazing! Now I'm going into opera - forget rock'n'roll! Freddie Mercury
From this collaboration a close friendship developed between Freddie and Montserrat - "Montsi" or "My Super Diva", as he also tenderly called them - which was characterized by great mutual respect. They kept in contact until Freddie Mercury's death in November 1991.
I loved him very much. He was a very close friend of mine. At first he was a little shy about singing with me. But I think I made him feel comfortable.Montserrat Caballé, soprano
Two artists from very different genres met here, but they still had a lot in common: high demands on themselves, humor, great joie de vivre and a deep love of music. And both showed an enormous presence and very special charisma on the stage.
It didn't matter whether there were 700 people in the audience or 350,000. He had the gift of making everyone feel like they were singing just for them. Peter Freestone, personal assistant and friend
Freddie Mercury: autodidact and exceptional talent
Freddie Mercury was - as far as his voice was concerned - self-taught. He had taught himself everything he could. He never had a singing lesson. His rock-tenor voice, which was so variable and full of vibrators and which has fascinated so many people to this day, was something he - undeviating as he was - had created all by himself. And here too, as in his compositions, he was extremely versatile. Rock'n'Roll, disco, funk, gospel, pop-ballad, hard rock, musical - he could sing everything and he did it too. And - that was also an outstanding characteristic of Freddie Mercury - he kept developing, there was no standstill for him.
He was a chameleon when it came to musical colors. John Axelrod, conductor
Together with Brian May, Roger Taylor and John Deacon, Freddie Mercury created one of the most innovative and colorful rock bands of all time: Queen. A band that made music history with their productivity, their unmistakable sound, their rousing live performances and their versatile concept albums.
And as one of the greatest rock stars that ever existed, he reached out to the classical music scene. Freddie Mercury's artistic courage, his originality, his curiosity and openness to other arts made him an exceptional figure, which shines through to this day.
Two-hour portrait to listen to
The NDR Kultur series "World of Music" has dedicated a two-hour portrait to the singer and composer. Close companions like his personal assistant Peter Freestone and greats of the classical music scene pay tribute to an outstanding artist personality of the 20th century in a very personal way. Photos and documents, some of which have not been published, allow an extraordinary insight into the musical work of Freddie Mercury: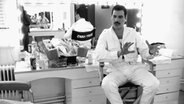 AUDIO:
Freddie Mercury: In the footsteps of a free spirit (115 min)
Queen - "Radio Ga Ga"
The idea for Queen's "Radio Ga Ga" came from the two-year-old son of drummer Roger Taylor. It's a tribute to good old radio - here's the full story. more
Queen - "We Will Rock You"
Queen guitarist Brian May not only shaped the sound of the band with his special guitar sound, he also wrote many songs - including "We Will Rock You". more
This topic in the program:
NDR culture | World of music | 05.10.2020 | 8:00 p.m.