Why is Donald Trump lying
Series "The Blinding": The President is always right
Status: 03.08.2020 05:00 a.m.
Donald Trump does not fight with the foil, but with the club. "Lying press" accusations, bizarre theories about Corona, insults: everything is allowed for him in the election campaign. And of all things, Twitter added a fact check to his tweets. And does it bother anyone in the election campaign? Has Trump got over the top? Or will that be exactly what will lead him to victory? A still life from the American election campaign as part of the NDR info series "The Glare: How Lies Determine the Debate".
by Sebastian Hesse, ARD-Studio Washington
Bill Clinton also lied during his tenure. But Donald Trump is setting new standards.
Admittedly, lies as a strategic instrument did not find their way into American politics first with Donald Trump: "I did not have sexual relations with that woman", Bill Clinton once lied about his relationship to the trainee Monica Lewinsky.
No one lies as boldly as Trump
Clinton lied, Bush lied and, yes, Obama lied too. But none of Trump's predecessors in office has ever bent reality so boldly. Even Trump's very first steps on the political floor were based on an untrue claim - the so-called Birther campaign.
In 2011, five years before his spectacular election victory, Trump swung himself into the figurehead of those who claimed that Barack Obama was not American at all, but was born in Kenya and should therefore never have been president. Was entertaining, but was completely drawn out.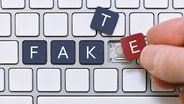 AUDIO:
Lies in politics: "Trump is a number for himself" (4 min)
First lie after inauguration
In 2017, Trump's inauguration gave an immediate foretaste of what was about to twist the truth: The newly sworn president announced that never before in history had so many participants attended an inauguration as he did. Which could be refuted very quickly on the basis of aerial photographs. Criticism of Trump's assessment was dismissed as "alternative facts".
Alternative facts - that was the first word created by a presidency that created its own reality. Criticism was rejected as "fake news" from the start. And your own reading, however adventurous it may be, was mercilessly hammered out - especially in Trump's infamous tweets.
Washington Post counts more than 20,000 Trump lies
Staccato tweeter Trump boasted that he was the most transparent president of all time. The "Fake News Media" - in Trump jargon the counterpart to the German "lying press" - then made the fact check the most informative column, above all the "Washington Post".
Since then, the newspaper has carefully documented all false and misleading claims made by the president. A mammoth task: in mid-July of this year there were over 20,000 untruths that the paper was able to prove.
Trump always wants to look good
Bending reality in such a way that it looks as good as possible: "Donald Trump has had this method for a long time!" That is what someone who should know: Tony Schwartz, Trump's ghostwriter for his bestseller "The Art of the Deal." ":" He has a perverse ingenuity to bend every situation in such a way that it shows his brilliance, "says Schwartz," even if that is absolutely not true. "Even in her first year in office, Barbra Streisand inspired a song critical of Trump : "Don't lie to me", "Don't lie to me".
But how does Donald Trump manage to get his admirers and supporters to let him get away with his demonstrably divided relationship to the truth? Especially by - like all populists - simply turning the tables and hurriedly blaming others for what threatens to be accused: The health insurance introduced by Obama, for example, is a big lie, said Trump.
Fight for the sovereignty of interpretation
And the old elites, whom he has declared war on, use every means to discredit him. What is meant are the media, the opposition, liberal judges, critics from within their own ranks: all part of the Washington swamp that his fans have commissioned him to dry up. "You have to beat them with their own weapons," Trump is convinced. Anyone who attacks him, so the logic goes, is attacking his political project. And with it his clients: the Trump voters. They want to regain the interpretative sovereignty in America. As long as he can be the center of attention, Trump will be happy to do that for you.
A virus and a choice
Under what circumstances the Americans will elect their president on November 3rd is still completely open in Corona times. Bettina Gaus on strange election campaign times in the USA. more
This topic in the program:
NDR Info | Info program | 08/04/2020 | 8:08 am