What is needed for a successful company
10 factors for successful business ideas
When asked what makes a business idea successful, there are many answers - depending on your point of view. There is no one-size-fits-all recipe for successful business ideas. However, there are many factors that can help the founder to realistically assess a business idea and implement it successfully. Below is an overview of the most important components for successful business ideas.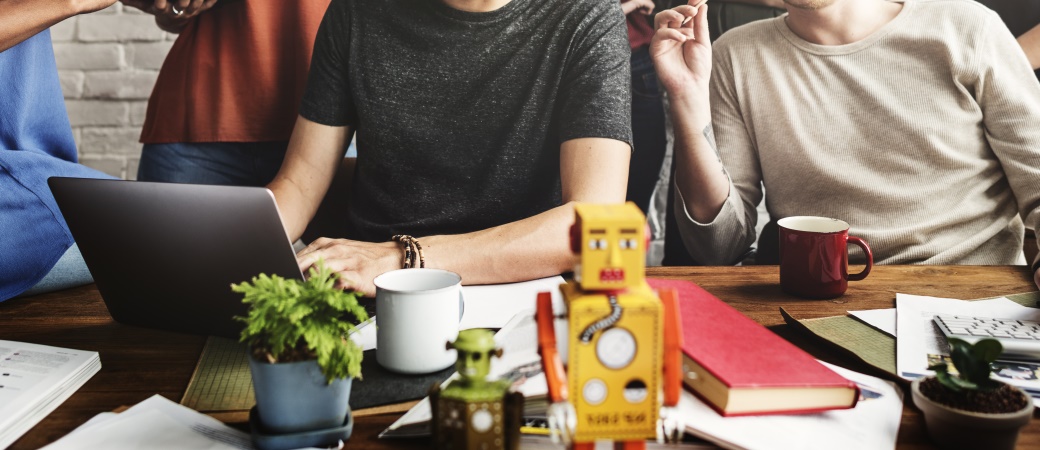 1. Zeitgeist as a trend driver
The development of trends in the market has always been driven by the prevailing zeitgeist. And that in all areas. It is important for the founder to know whether a trend will last or is just a short-lived fashion. After all, who wants to sacrifice their business model to a fast-moving trend that brings them good sales for a short time, but does not offer sustainable prospects for a few years? A small consolation: Even the world's leading and successful high-tech corporations sometimes make wrong decisions with regard to future developments. Examples include Microsoft, which literally slept through the Internet business, and Nokia, the global cell phone market leader, who recognized the potential of smartphones far too late and is now lagging behind.
However, founders shouldn't be discouraged by this. In the IT sector, there is currently a clear trend towards cloud computing and the growth rates for mobile Internet speak for themselves. The user wants to be able to access his data from anywhere: via tablet PC, notebook and smartphone. Web mail services and streaming portals, finance and office services that offer their services on the web will therefore continue to grow and gain in importance. In online retail there is a constant trend towards individuality and personalization that will not die away anytime soon. The zeitgeist also calls for ecologically sustainable products that have been manufactured under socially acceptable conditions.
2. Finances / business model
As is well known, a good business model is half the battle. After all, the founders want to earn money with their business idea and their investments should pay off in the medium term. Sufficient capital resources are therefore always an advantage. Their amount depends on many factors. While web shop operators need a logistical concept and have to invest in storage space and inventory, these costs are not incurred by DropShipping dealers. Other, less capital-intensive investments are to be made here and the capital requirement is correspondingly lower. It is best if the founder works out a detailed business plan that is easy to understand, especially for third parties. There are costs for every business start-up. Premises have to be rented and offices have to be equipped and material and mostly goods have to be procured. Running costs such as telephone and internet, contributions to the Chamber of Industry and Commerce and expenses for specialist magazines should also appear in the business plan.
This is the only way for the founder to present a credible image to banks and investors and to receive funding more easily to drive business development. The business plan should therefore explain what benefits the product and the relationship with the company will have for future customers and business partners and how the added value will be created. This leads to the all-important question of the revenue model, which indicates which revenues are generated from which sources. Indispensable for future valuation, as this model is the only way to determine whether the company is in a position to generate long-term profits and thus has a sustainable perspective.
3. Market potential and market saturation
Founders often believe that a good idea is enough to make a lot of money quickly. In exceptional cases this may be true - but it is not the rule. A business start-up needs to be well planned and a lot of preparatory work has to be done before a new company can start up. The realistic assessment of the market potential of the business idea is very important. It is helpful to use a prototype to test the market opportunities of the product that is to be sold before actually setting up a business. The question is: at what price which target group would be willing to buy this product. The easiest way to do this type of "market research" before starting is with friends and acquaintances.
The entrepreneur will quickly get a feel for what is possible and what is not. Even with an overwhelming response, the founder should not be carried away, especially at the beginning, into producing a product on stockpile. Because only practice can show whether product sales in the targeted target group can be sold in the quantity produced at the desired price. Caution is advised in markets where a high level of market saturation has already been reached. For example, if you want to sell cell phones successfully, you either have to offer a very special service or have devices with unique selling points in the range in order to be able to survive successfully in this oversaturated market.
4. Competitor analysis - does such a product already exist?
Anyone who sets up a company should deal intensively with the competition before starting. It is not uncommon for the competition, which is known to never sleep, to be underestimated or not noticed at all. Many founders are often too obsessed with their business idea and believe that they have discovered a real niche in the market that they do not notice the contraindicators. You should therefore be particularly careful with products and services that are currently experiencing a boom. The question of whether your own product has sufficient potential to hold its own against the competition must be the focus of the analysis.
If comparable products are already available on the market, the differentiation from the competition is particularly important for marketing. The aim is to convince the potential customer of the benefits of the product. The prospective founder should find out how many competitors there are, what weight they have in the market and where their respective strengths lie. The better he is familiar with what potential competitors have to offer, the better he can position himself in the market later.
5. Realizable development and market launch costs
Those who start something can also make mistakes. However, this truism can be fatal for founders if a product is still flawed despite intensive development work and tests after market launch. Additional costs are incurred and the company's growth is hampered. These so-called "teething troubles" are not infrequently a reason why companies fail. This is why technically oriented start-ups from the fields of mechanical engineering or IT should take particular care and test the products extensively under a wide variety of conditions before they are brought to the customer.
Recalls are expensive and bugs in software are not only bad for the image, but can also cause damage to customers, which in the worst case can lead to claims for damages. So that it doesn't get that far in the first place, the quality assurance of the products must have the highest priority in the start-up phase. There are no perfect products, but defects that are identified before the product is launched should definitely be eliminated before the product is launched. Postponing a product launch is definitely cheaper than the previously mentioned inconveniences.
6. Go-to-market and fake marketing
In addition to insufficient funding for a company, mistakes in marketing and sales strategy are among the most common causes that can lead to failure in the first six years. When launching a product, various factors such as local conditions, the specifics of the industry and the competition must be taken into account. Only after a thorough market analysis is it possible to develop and implement sensible implementation strategies for the product. Good marketing is therefore one of the most important factors that determine the success of a business idea.
When it comes to internet-based business ideas, the right mix of different marketing measures is important. It depends on the type of product whether search engine marketing is successful or whether other online advertising formats such as display advertising should be used more intensively. New, as yet unknown product ideas tend not to be found via the search engines at the beginning. As with marketing, the same applies to the sales strategy: The specific product conditions determine the optimal distribution channel, i.e. whether the product can be better sold directly, through wholesalers or retailers.
7. Patience / acceptance process of the product by buyer
Anyone who wants to enter the market with a new business idea needs one thing above all: patience. Easier said than done, however. Founders have to plan enough waiting time for the market to accept the new business idea. Since no sales can be generated in the first weeks and months to cover the costs, the founder should have sufficient funds to bridge the initial period with which he can earn his living. As part of the product life cycle model, a period of at least six months must be planned for the introductory phase.
When the break-even point is reached and the proceeds cover the costs, the introductory phase is over. It is followed by the growth, maturity and saturation phase. In the latter phase, the innovation potential of the business idea should be used for further development. Even if the introductory phase can be shorter, sufficient time should be planned so that the business idea can successfully establish itself on the market.
8. Sufficient innovation potential
Successful business ideas are never a flash in the pan, but have plenty of potential for further development. If this is missing, there is a risk that the business idea will fail after a brief flash in the pan. This is particularly important for start-ups who focus all their energy on a single product. The product idea should, if possible, always be modifiable and offer sufficient potential for innovations. On the one hand, this can generate follow-up business and, on the other hand, there are good opportunities to get into conversation with a product innovation. Even after a successful start, dry spells can occur from time to time, which can be countered by creating sufficient reserves in good time.
These phases should be used more to further develop products and services. A broadly diversified demand also protects against dependencies, which one can observe again and again in technically oriented and project-related start-ups. If a large and important customer breaks away, the company can quickly get into financial difficulties. Demand oligopolies, where business development depends on a few customers, should be avoided if possible.
9. Founding teams must pull together
If several founders are involved in setting up a company, it is possible that they may pursue different objectives, which is often not even noticeable in the start-up euphoria. While for some it is important to have a sustainable business model with which they want to establish the company on the market in the long term, others may only be interested in a quick increase in value and just as quick liquidation. Over time, this can lead to internal disagreements between founders that paralyze the company and, in the worst case, end in bankruptcy, which can destroy the company's value.
If all founders do not pull in the same direction, friction losses are always inevitable. Even the most promising start-ups with the greatest business ideas can fail because of this. So that this does not happen in the first place and the chances of success of a business idea are not hindered by such differences, founders do themselves the greatest favor when they contractually protect each other against these dangers as early as possible.
10. Motivation as a success factor
A basic requirement for the success of a business idea is the motivation of the founder. His enthusiasm and his absolute will to succeed are decisive factors in order to be successful with a business idea. However, goodwill alone is often not enough. Flexibility in setting objectives is just as important as a good feel for markets and customers. The founder only learns many things when he enters the market with his business idea. Here it is important not to be discouraged by small setbacks. As a rule, market participants often react differently than expected at the beginning. The founder should always see this as an opportunity and work purposefully on improving his business idea. The markets will always honor this.
---
Conclusion
Inexperienced founders usually want to know in advance whether their idea will be successful and whether it has sufficient potential. No consultant can give you a binding answer, because there is no ideal way to successfully implement a business idea. Taking into account the factors listed above brings the founder a big step closer to the goal of building and securing an economically viable company. The rule here is that you have to try it out yourself and gain experience. Counselors can help avoid negative experiences.
However, the founder is not spared the plunge into the deep end. According to David Gold, the successful founder of "The Expert Marketplace", an online agency for business consultants in the USA, founders should focus more on testing their products in real market conditions than on creating perfect business plans. See also the point "Realizable development and market launch costs". Working with prototypes not only saves the founder from unpleasant surprises, but also helps him to start his own business as a part-time job and gradually transform it into a full-time job.