Why are books good for children
Those who read early will be smart later: Why it is so important for parents to read aloud
The foundation for future educational opportunities for which reading and writing are indispensable key skills is laid in early childhood. Even small children have the best prerequisites to become enthusiastic readers later. Your curiosity, thirst for adventure and thirst for knowledge are the most important characteristics in order to gain access to these competencies.
When parents read for themselves, leaf through the newspaper and give books a permanent place in everyday life, children will involuntarily take over and imitate them. And those who have fun discovering the exciting world of stories at an early age will usually find it much easier to access reading.

Parents can encourage their children to "discover the world" by integrating reading and storytelling into their everyday family life. Those who have fun discovering the exciting world of stories at an early age will usually find it much easier to access reading.
The ability to concentrate is strengthened
Since the 1990s, neurologists have repeatedly demonstrated the importance of early support. Because positive incentives activate the training of the brain and increase its performance. Reading aloud, looking at picture books and telling stories are ideal ways to optimally accompany the cognitive and linguistic development of toddlers.
Small children perceive picture books with all their senses, they understand them in the truest sense of the word. It is particularly important that the reader - whether parents, grandparents or older siblings - accompanies what can be seen on the pages with language, tells what can be seen and reads the story slowly and grippingly.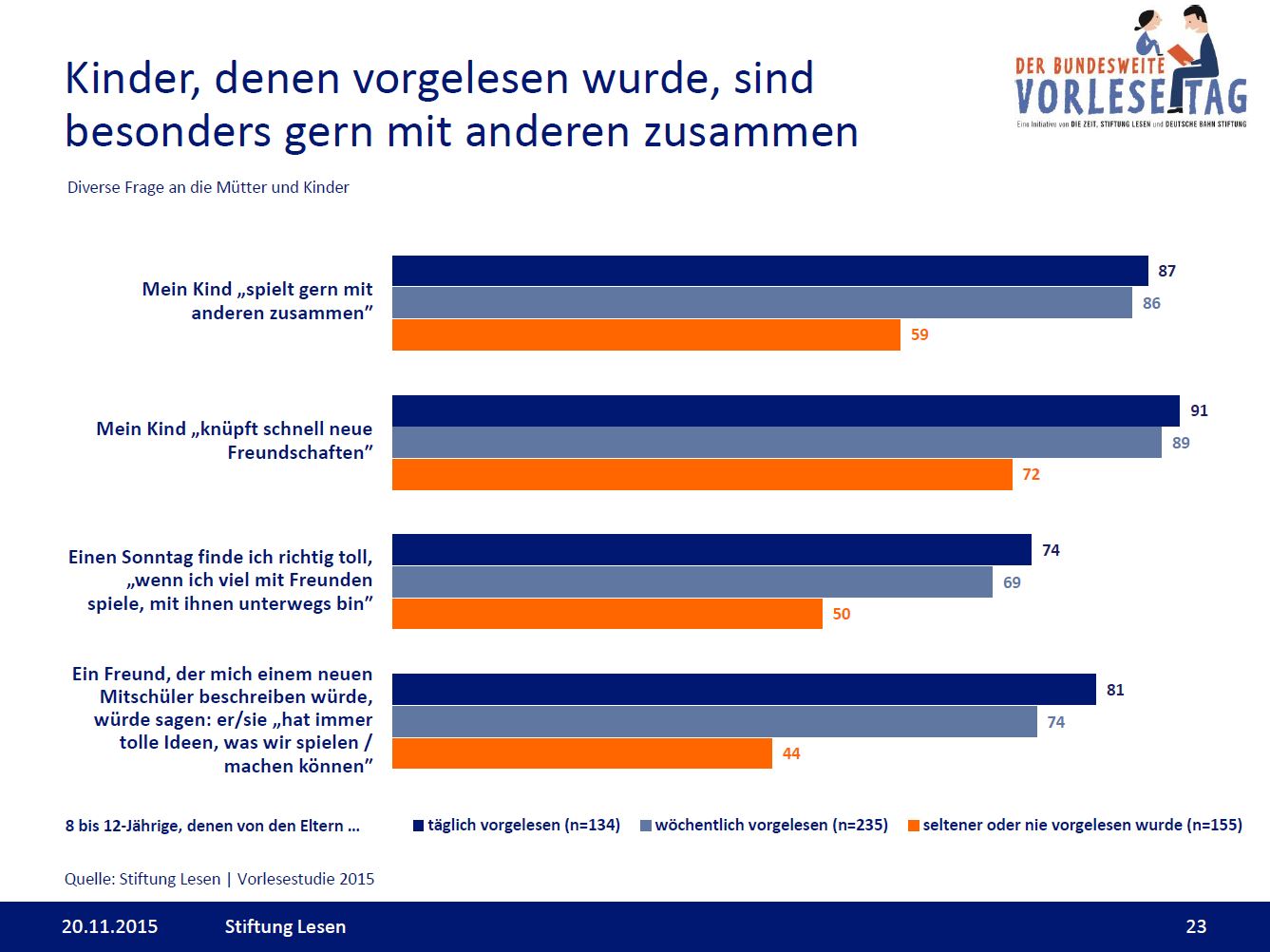 Through this dialogical communication, the small child learns the melody and the rhythm of the language. Reading aloud increases the ability to concentrate, strengthens empathy and encourages the child's imagination.
Help for children to whom little is read
The reading studies that the Reading Foundation initiates every year show that reading aloud is demonstrably important for children's linguistic development. Children who are regularly read to, often perform better at school as well as in their personal development and develop particularly social skills such as empathy, a sense of responsibility and a sense of justice.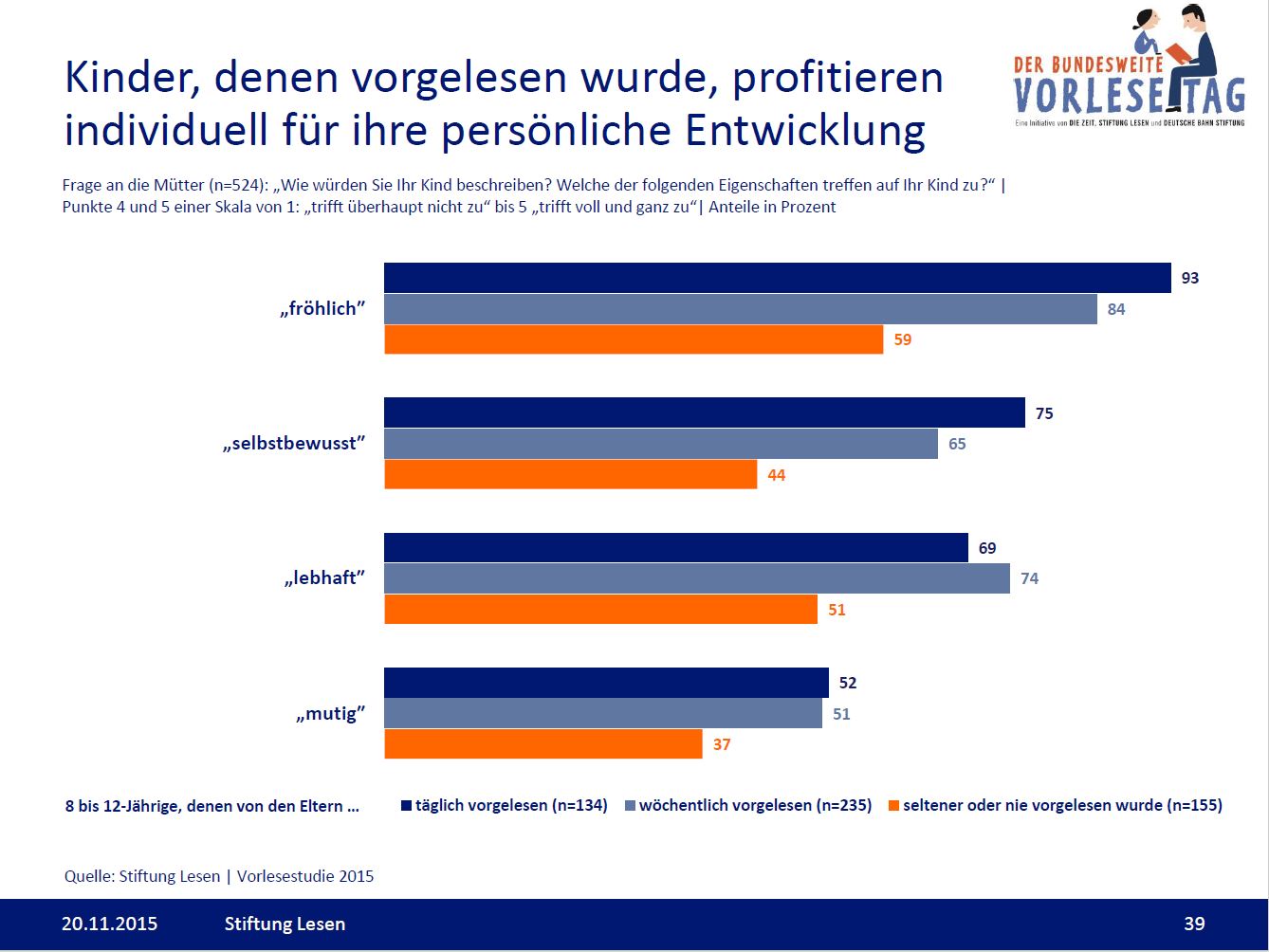 All in all, reading aloud is a central building block for a good holistic development of children and adolescents. In order to make as many families as possible aware of the importance of promoting reading in early childhood and to support them with practical everyday tips, the Reading Foundation carries out further product information on behalf of the Federal Ministry of Education and Research! the nationwide program "Reading Start". The initiative is particularly aimed at children who are rarely read to.
Promotes security and trust
Especially against the background of changing family structures and increasing everyday stress, reading aloud is of great importance for family communication, because it is an occasion for discussions between parents and children.
It gives children space to ask questions and helps parents to find suitable answers and explanations. In addition, it creates an atmosphere of trust and security that the children have a lasting impression of.
There are a few very simple tips to make reading aloud together a real pleasure:
Find a cozy, quiet place with your child.
Choose a favorable moment when there is really time to fully engage with your child, for example in the evening before bed.
It is important that you, the reader, be patient with your young audience and respond to questions.
Children especially like to hear stories that are related to their interests, to what is preoccupying them.
You will find a large selection of picture and children's books in your local library or in bookshops.
There are now apps for many children's books that create additional reading incentives. Basically, reading aloud is not necessarily tied to the printed book, but can take place in different media and formats - what is important is the shared experience.
It is very important that reading aloud is fun for everyone involved and that it is not a compulsory event.
Parents can also find more tips here.
Further contributions by the author can be found here in our family handbook
Author
Sabine Bonewitz is head of the family program area of ​​the Reading Foundation.
source
This article was published on August 29, 2016 on Focus Online and is here with the kind permission of the publisher.
discontinued October 19, 2016