Facts about grass jelly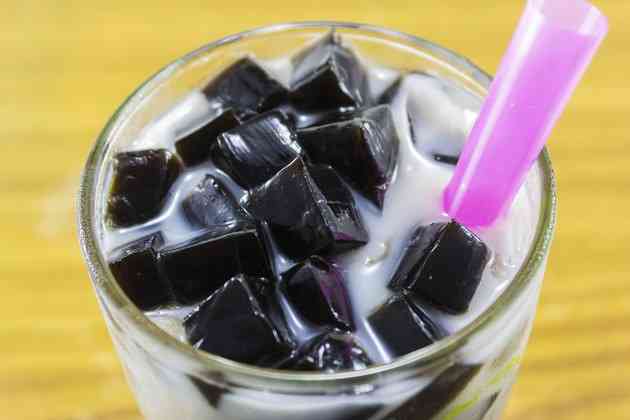 Grass jelly is an Asian dessert commonly served in China, Taiwan, and Southeast Asia. In some parts of Asia, this dessert is also known as leaf jelly. Generally, manufacturers sell canned grass jelly, and you usually cut the grass jelly into pieces before you eat it. Grass jelly is made from the leaves and stems of the mesona chineensis plant.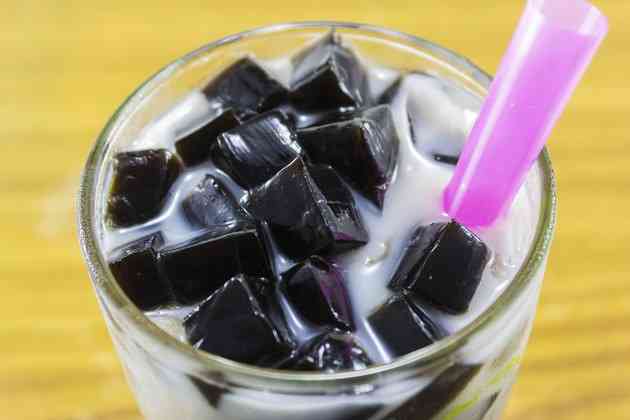 Close up of the grass jelly in a tall glass. (Image: tongwongboot / iStock / Getty Images)
Few calories
According to the Chao Kuay Grass Jelly product label, a 330g serving of grass jelly contains 184 calories. This equates to about 9 percent of your recommended total daily caloric intake based on a 2,000 calorie diet.
Carbohydrates and protein
A 330 g serving of grass jelly contains 44 g of carbohydrates and 2 g of these carbohydrates come from fiber. The rest of the carbohydrates come from sugar. Grass jelly is therefore higher in sugar and carbohydrates. Each 330 g serving of grass jelly also contains 2 g protein.
Fat and vitamins and minerals
Grass jelly does not contain any fats, vitamins or minerals. Because of this, the number of calories in this dessert remains relatively low. Despite the lack of fat in this dessert, the dessert is rich in the sugar content of the carbohydrates.
How to serve
In China, grass jelly is usually served with sugar syrup, evaporated milk, or fruits like mango, watermelon, or cantaloupe. In other Asian countries, grass jelly is typically mixed with other types of desserts and soy milk. In some Asian countries, grass jelly is also available as a drink, usually mixed with a juice.